HypnoBirthing Portland: 5-week course at Blossom Clinic. For latest schedule, click here. 
Classes include textbook, rainbow relaxation CD and a rewarding experience for you, your partner and your baby. Cost is $325 for 5 weeks. Class series begin regularly so give us a call! (503)287-0886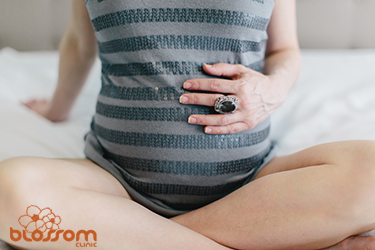 HypnoBirthing ® is a rewarding, relaxing, stress-free method of birthing that is based on the belief that all babies should come into the world in an atmosphere of gentility, calm and joy. When a mother is properly prepared for birthing physically, mentally, and spiritually, she can experience that sort of joy, birthing her baby is an easier, more comfortable and often, even pain-free manner. Through a well-thought-out program of deep relaxation, self-hypnosis, and education, HypnoBirthing ® returns to a woman the art of birthing in a way that allows her to summon her natural birthing instincts and to birth her baby in safety and with ease. In HypnoBirthing ® the birth companion is an integral part of the birthing process, enhancing the entire bonding experience.
Hypnobirthing with lori reising, Reviews from Yelp:
"My husband and I met Lori when we decided to take her HypnoBirthing class during my first pregnancy.  My husband had very low expectations, coming from our second hospital birthing class, into our first hypnobirthing class.  After the first class, he was so relaxed and positive about the pregnancy and birthing process, it was amazing the transformation.  Lori was a phenomenal guide through the process and made the anticipation of birth so enjoyable. 

I would also highly recommend Lori for massage therapy.  I have had back problems related to a car accident and Lori helped me greatly during my pregnancy with massage and relief of my lower back. She also did cranial sacral work on my baby after she was born via C Section.  The care and energy that Lori has fills the room and makes you feel so comfortable.

I highly recommend Lori for your massage needs and hypnobirthing classes.  She made our birth experience wonderful."

_______________

"I attribute my healthy, natural birthing experience to Lori's HypnoBirthing instruction. I had so much confidence when I went into labor because of her classes. Throughout the entire birthing process I was able to recall and apply specific visualizations exercises.  During contractions, I was able to go within myself and recall the affirmations on the HypnoBirthing CDs she provided.  I know that being able to enter the HypnoBirthing state allowed for a gentle experience for both myself and my baby.

I recently moved to Portland from Chicago, and I know that my birthing experience would have been 100% different had I given birth when I was there.  I would never have known the natural high that came from foregoing an epidural and giving birth with minimal medical intervention.  The benefits of this type of birthing continued as I had a ton of energy in the days/weeks immediately after giving birth. Out of all of my "new mom friends", I am the only one who relishes her birthing experience and would not change one single thing about it!"