Blossom Biz Shout Outs are a series of heartfelt blog posts covering local businesses in the health, fitness, food, and fashion industries. This is my review of Shop Adorn, a clothing boutique in Portland, Oregon with a fabulous online store.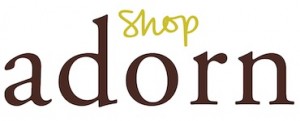 Imagine this: 
It is January 1st and you just recently celebrated a great year with your small business. Just a few months earlier you moved into a new retail space with everything you ever dreamed of including a custom countertop hand-made out of rows and rows of pennies.  Your customers are awesome and your online store is growing.   You go to sleep with dreams of another wonderful year only to wake up to an early morning call informing you that your shop is on fire.  They are not sure that anything will be salvageable.  What do you do?
a)    You go under cover and know that you cannot get back to where you were; or

b)   You rise up like a phoenix and kick some serious butt!
If you are Nicole and Ethan Whitesell, owners of Shop Adorn, you choose b and move into some serious action despite circumstances out of your control. You start from scratch and focus on what you can do at the very moment and you bring your shop to an even better place.
I have been a fan of Shop Adorn for over two years, since Nicole ushered me into a changing room and handed me styles that quickly moved me into the 21st century.  Who knew that Prairie Underground Denim Girdle Leggings could change a girl's life?
From the first day I walked into the shop I respected Nicole as a fellow local female business owner.  And after the fire, that respect grew as I watched her work hard to rebuild.  I witnessed the essence of the entrepreneurial spirit that ignites us and inspires us to grow our own businesses.
So here is my shout-out to Shop Adorn because the online store is fab and when you buy clothes and accessories from them you can feel good that you are supporting business owners who are true to their brand and genuinely passionate about what they do.  And who doesn't want to look good AND feel good?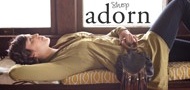 4120 NE Fremont St
Portland Oregon 97212
Ph: 503.505.7424
M-F 10-7 S-Su 10-6